Celebrated Filmmaker Julie Dash Retrospective to Highlight
Taiwan's 16th Annual Women Make Waves Film Festival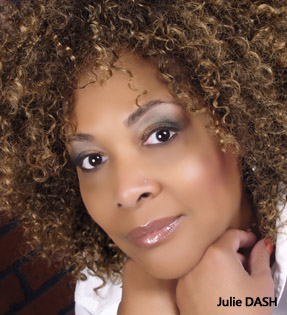 For Immediate Release
October 8, 2009
Los Angeles, CA - Acclaimed American filmmaker Julie Dash will be celebrated for her accomplishments in filmed entertainment with a retrospective of her work at the Women Make Waves Film Festival in Taiwan, ROC. "Daughters of the Dust", Ms. Dash's seminal work which was the first film by an African American woman to have a full-length general theatrical release in the United States, will open the 10 day Festival on October 16th. Described as an American cultural experience, "Daughters of the Dust" is one of a select group of American films preserved as American Treasures and is in the United States' National Film Registry.
Now in its 16th year, the Women Make Waves Film Festival celebrates the achievements of outstanding female talents and is committed to explore different aspects of women's lives as well as to advocate equality and rights of all genders through access, education and film. By covering a wide range of genres, issues, and representations of women, the Festival aims to present, promote and honor women's survival wisdom and resisting power in the world of cinema. The theme of this year's Festival is "Women Move On: No Border, No Nation".
According to Festival organizers, the non-profit Taiwan Women's Film Association, President Barack Obama's victory in 2008 U.S. presidential election has drawn global attention to racial politics in American History. This historical moment has also caught the public eye in Taiwan. The media hype in Taiwan surrounding Black history (especially in America) has often left out the Black women's experience. As a result, the Taiwan Women's Film Association sought out Julie Dash as a visionary filmmaker whose work has focused on the Black experience and identity from a gender perspective.
"I am excited and honored to be recognized in Taiwan, ROC for my body of work', said Ms. Dash. "Taiwan is the doorway to the future and the gateway to mainland China, the largest market in the world. This is a great opportunity for me to get involved with this new market and I look forward to creating new projects that dwell on the similarities of our cultures and our women."
6709 LA TIJERA BLVD., SU. 399, LOS ANGELES, CA 90045 (323) 549-9902 FAX (323) 549-9903 E-MAIL: TRIADLA@AOL.COM
A key part of her participation in the Festival will involve hosting a Forum titled: Issues of Female Representation and Racial Identity: A Dialogue with Julie Dash. In this presentation, Ms. Dash will analyze female role portrayals in film and television as it relates to female culture and ethnic identification.
In addition to screening "Daughters of the Dust", Ms. Dash will also be screening some of her other feature length projects, including her long form, dramatic narrative films "Love Song," an MTV original feature starring R&B singers Monica, Tyrese and TLC's Chili; "Incognito," a romantic thriller starring Richard T. Jones, Vanessa Williams, Phil Morris, Ron Glass with Rodger Guenveur Smith; "Funny Valentines" starring Alfre Woodard, Loretta Devine and C.C.H. Pounder, and the award winning made-for-television movie "The Rosa Parks Story" starring Angela Bassett and Cicely Tyson.
Earlier this year, Ms. Dash collaborated with the Indianapolis Museum of Art (IMA) on an exhibition titled Smuggling Daydreams into Reality: Yesterday, Today and Forever in which short films were produced by physically and emotionally disabled high school students participating in the IMA's Museum Apprentice Program. The students were mentored by Dash as they created a series of self-reflective films exploring the concept of dreams deferred and dreams realized.
Recently, Ms. Dash joined with two industry veterans to form WormHole Routing LLC, a filmed entertainment production & distribution company. As Chief Creative Officer, she oversees the creative direction of the company which currently has several projects in various stages of development including two feature films (an action thriller about an African American cryptographer, and a drama about a covert operation ordered by FDR and executed by African American women), a 1-hour weekly television series about a woman who is an evangelistic prayer warrior; and a theatrical production of her film, "Daughters of the Dust, The Musical",
Ms. Dash has had a book published by The New Press, and a novel published by Dutton-Signet Books that is a sequel to "Daughters of the Dust". She is currently working on a romantic trilogy.
Julie Dash was born and raised in New York City; she has toured nationally and internationally with her work, and has received numerous awards since embarking on her film career. Ms. Dash earned her M.F.A. in Film & Television production at UCLA; received her B.A. in Film Production from CCNY, and was a Fellow at the American Film Institute's Center for Advanced Film Studies, the AFI conservatory at Greystone Mansion.
Contact : Charles Richardson
(646) 242-3899 (323) 549-9902