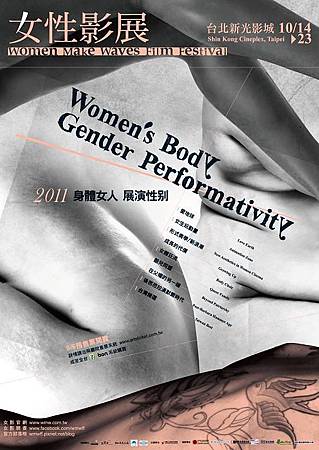 Time: Oct. 14~23, 2011
Venue: Hsin Kong Cineplex, Ximending, Taipei City (4F, No.36, Xi-Ning S. Rd., Taipei)
Pre-sold tickets are available from Sept. 6 to Oct. 13.
Tickets can be purchased via www.artsticket.com.tw, 

, or our booking hotline at (02) 2557-9463.
The Women Make Waves Film Festival is 18 years old now! With the idea of " Women's Body, Gender Performativity," the festival is scheduled to present its films by the following six themes—"Love Earth," "Animation Zone," "New Aesthetic in Women Cinema," "Growing Up," "Body Choir," "Queer Family," "Beyond Patriarchy," "Post-Barbara Hammer Age" and "Taiwan Best."
Join the largest visual feast this autumn and showoff the diversity of women's body and the performative acts of gender with us!
BLOG:wmwff.pixnet.net/blog
FACEBOOK:www.facebook.com/wmwff
PLURK:www.plurk.com/wmwff